THE INTEGRATION SOLUTION SIMPLIFIES THE INTEGRATION TO THE FRAME BY MECOSUN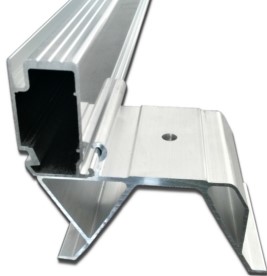 MECOSUN's solution for easy integration into the frame on corrugated steel sheet.
Ribbed Steel Sheets are present on a large number of buildings. In order to be able to equip these buildings with a photovoltaic installation without removing this underlay, we have developed the CLIPSOBAC system.
This system is designed to facilitate simplified roof integration of all framed photovoltaic modules meeting IEC standards. It adapts to the profile of the steel plates, and is developed to interface as well on "dry" trapezoidal sheets (without insulation) or "sandwiches" (with insulation).
The CLIPSOBAC solution is designed with a systematic failure recovery, it is simple to install and guarantees a robust installation. It is compatible with all types of breakdowns and allows perfect control of the effects of expansion.
The
CLIPSOBAC

system
SIMPLICITY
Only 3 parts make up the system: jumpers, rails and clamps (which also serve as earthing) = quick and easy integration
RESISTANT
the rider has been specifically designed to withstand the pressure and depression stresses due to wind and snow loads and to guarantee watertightness over the long term.
DURABLE
The main components are made of aluminium and the screws and bolts are made of stainless steel, thus ensuring that the system is highly resistant to weather conditions over time. Systematic recovery from breakdowns guarantees the durability and longevity of the installation.
MADE TO MEASURE
Great freedom of layout with the possibility of mixing a portrait and/or landscape pose in compliance with the constraints of the DTU 40.35.
Most
produced
- OPTIMIZED NUMBER OF PIECES

- FAULT RECOVERY

- SIMPLE INSTALLATION

- ADAPTABLE

- ASSEMBLY SPEED
technical data
GENERAL TECHNICAL DATA

Attachment to all types of purlins

All framed modules according to IEC standards

Single-skin (dry) or sandwich (insulated) bins with a minimum thickness of 63/100 mm.

Aluminium, Stainless steel screws

Distance between support failures

Maximum 2.60m (maximum creep 40m)

Maximum value under rising wind load: up to 4550Pa

Maximum value under descending snow load: up to 4200Pa/ Altitude 900m
The data given above are orders of magnitude. Consult our engineering department to check the distances to be considered according to the snow and wind loads in the installation area of your project.
Other products