The integration solution on corrugated fibre cement Cemfort sheets from our partner CEMBRIT.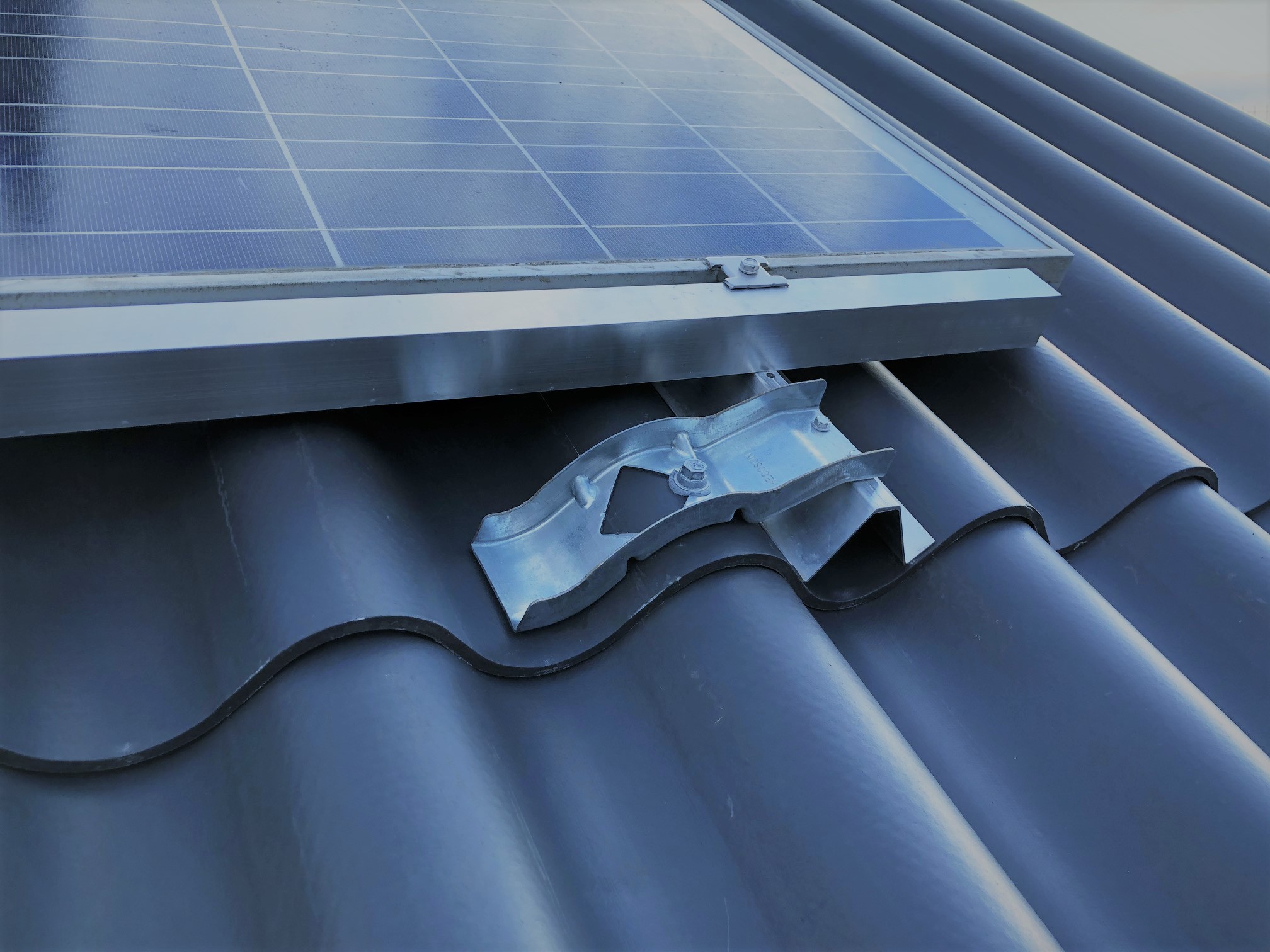 The advantages of fibre cement boards are numerous, they offer great chemical and fungal resistance, they are naturally breathable and avoid condensation problems by absorbing up to 25% of their weight in water. Their durability, estimated by the profession at 30 years, and their manufacture made from environmentally friendly materials make fibre-cement sheets a suitable solution for agricultural sheds and large industrial buildings.
In order to be able to install a photovoltaic power plant on this well-known coating, which has been in use for more than 10 years, we have developed the FIRBROSUN solution.
The
FIBROSUN

system
A SIMPLIFIED INTEGRATION SYSTEM
Consisting of only 4 pieces it allows a robust, quick and simple installation in total or partial coverage. This system is installed on new fibre-cement plates (P.F.C)* and is fixed directly in the support purlins of the corrugated plates.
*intended use also on recent existing plates it does not require dismantling or new drilling and uses existing fasteners.
ADAPTABLE AND VERSATILE
The FIBROSUN system is compatible with all types of frames, metal, wood and concrete. It can equip ramps of up to 40 meters and supports up to 1.4 m of distance between purlins. All framed photovoltaic modules that comply with IEC 61730 and 61215 standards can be installed with the FIBROSUN system.
STANDARD
Made of 95% aluminium, the system is composed of standard profiles allowing you to store and pre-order your future building sites. The simple and intuitive layout allows you to design your solar roofs according to the type of corrugated plates used (5 or 6 waves), the dimensions of the modules, and the characteristics of the installation, MECOSUN and its design office remaining in support to guide you.
RESISTANT AND EFFICIENT
The transmission of the roof forces is carried out directly on the structure of the building. Differential expansions due to the use of different types of materials are completely controlled.
As the system does not require any additional drilling other than that due to the installation of the Fibre Cement plates, the watertightness is guaranteed and maintained even after the removal of the photovoltaic components.
The support profiles in the hollow of the waves offer the best resistance to pressure (snow and wind) on the market.
Most
produced
- STANDARD AND MULTIPURPOSE PARTS

- FAULT RECOVERY

- SIMPLE INSTALLATION

- ADAPTABLE

- ASSEMBLY SPEED
technical data
GENERAL TECHNICAL DATA

Adaptable to any type of structure (metal, wood and concrete)

IPN - IPE - HEA
Thin (e>1.5mm) ZED, C, Sigma type failures
Traditional or glued laminated timber - 60x80mm minimum section
Concrete with metal inserts

5 or 6 wave fibre-cement plates (177X51 waves)

Distance between support failures

1.385m according to the P.F.C. installation stress.

Maximum value under rising wind load: up to 2500 Pa

Maximum value under descending snow load: up to 3000Pa / Altitude 900m

Integrated into the system
The data given above are orders of magnitude. Consult our engineering department to check the distances to be considered according to the snow and wind loads in the installation area of your project.
Other products