DRAINING RAIL SYSTEM,
WITH FASTENING FROM ABOVE

.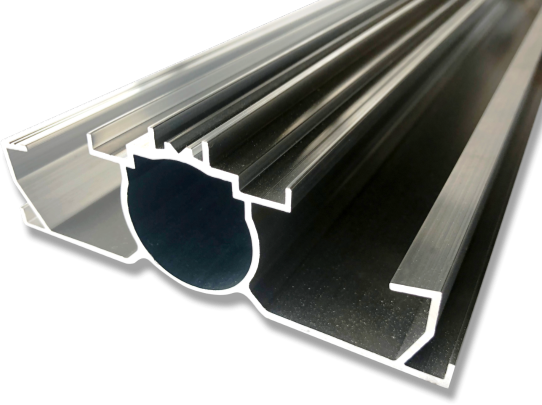 Integration system for attachment from above the roof structure
Intended for integration on all industrial, agricultural and tertiary buildings, MECOSUN's MV€ solution combines technical mastery and economic solution in a single system. Perfectly in line with the criteria for integration into the building, the system of draining rails adapts to all frames and all framed modules meeting IEC standards.
MECOSUN know-how and performance for the price equivalent to solutions with cover on corrugated steel sheets!
Realize your installations with a single product, simple, technical, economical.
Benefit from the experience of the 350MWp of projects carried out by MECOSUN.
Opt for a SAFE and QUALITY solution.
The
MVE MVE-H

system
ADAPTABILITY & VERSATILITY
The MVE system is adaptable to all types of new or existing structures (wood, steel, concrete) and to all framed modules (from 30 mm thick). It can be fixed on ramps up to 27 m long and is compatible with all roofs inclined from 5 to 50°.
All our profiles are produced in our factory in order to deliver you a tailor-made material, adapted to your project.
TIGHTNESS
The MVE/MVE-H system consists of drainage rails guaranteeing a 100% waterproof system with rainwater drainage at the bottom of the ramp. It has been covering roofs for more than 10 years and has been tried and tested and recognised by many installers.
RELIABILITY AND LONGEVITY
The system is composed of aluminium profiles and stainless steel screws for high resistance over time to climatic constraints and chemical aggression. It does not present any zone vulnerable to the accumulation of dirt or the development of moss that could disturb the proper functioning of the solar field.
INSTALLATION OPTIMIZATION
This integration systemallows you toovertake the rid geand eave purlin and to install the modules in portrait or landscape format. This integration system guarantees that the layout will be optimised according to your project by allowing you to install a maximum of power on your roof structure.
VENTILLATION
This system without sublayer allows ventilation of the modules, production is optimized with an average gain of about +8%.
DESIGN
By fixing directly to the bare roof structure (no underlay required), the system integrates perfectly with the roof, guaranteeing natural and optimised ventilation of the modules and perfect rendering while maintaining the transparency of the modules bringing natural light into the building.
You can paint the accessories in the colour of your choice in order to adapt the system to the colour of your modules or to any architectural constraints.
Most
produced
- MODULE VENTILATION

- 100% WATERPROOF

- MATERIALS QUALITY

- AESTHETICS

- EXPANSION COMPLIANCE
technical data
GENERAL TECHNICAL DATA

Adaptable to any type of structure (metal, wood and concrete)

IPN - IPE - HEA

Slimline failures type ZED, C, Sigma

Traditional or glued laminated timber - 60x80mm minimum section

Concrete with metal inserts

Compatible with all framed modules

Minimum thickness 30mm - Portrait and landscape installation according to module manufacturer's approval

From 5° to 50° (from 8% to 120%)

Distance between failures supports MVE

1,6m in portrait // 1,20m in landscape

Distance between failures supports MVE-H

2.4m in portrait // 2m in landscape

Authorized overrun Ridge/gutter MVE

30 cm on each side in portrait // 15 cm in landscape

Authorized exceedance Ridge/gutter MVE-H

80 cm on both sides in portrait //50 cm in landscape

Wind zone (according to NV65)

Zone 4 (Zone 5, depending on the case study)

Snow zone (according to NV65)

Maximum 27m (beyond these values, please consult us)
The data given above are orders of magnitude. Consult our engineering department to check the distances to be considered according to the snow and wind loads in the installation area of your project.
Other products