OMBRIERE MECOPARK without FOUNDATIONS
Self-ballasted shade without foundations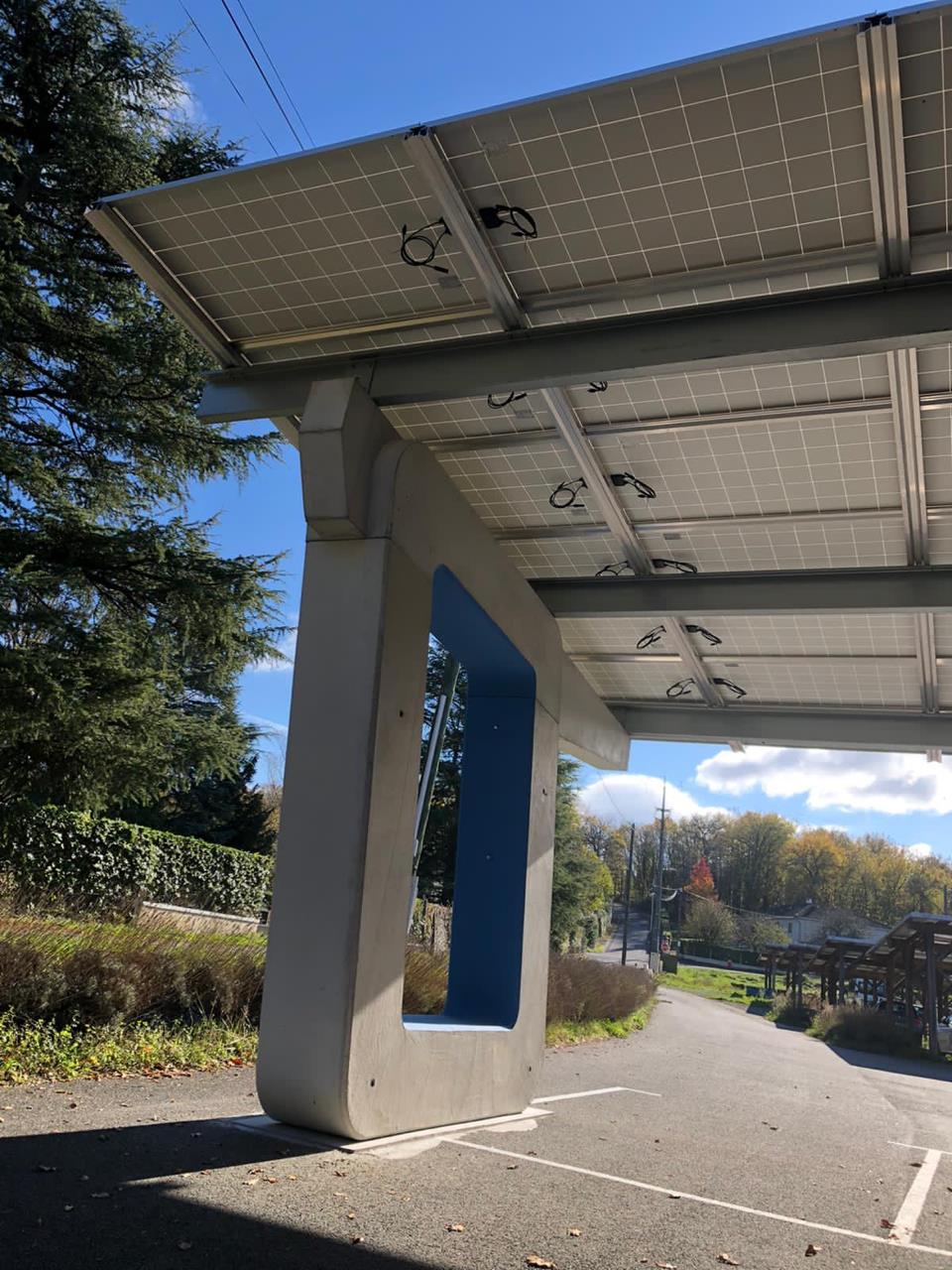 With the Mecopark solution, equip your parking space quickly, without damaging your existing covering. The main supports, concrete feet, allow the anchoring of the solar roof.
The
OMBRIERE MECOPARK

system

without FOUNDATIONS
ADAPTED TO YOUR AVAILABLE SURFACE
The three leg designs offer the possibility of covering your entire parking space by using single SOLO (one parking space in its length) or DUO (two spaces facing each other and covered) shades.
PROTECTED VEHICLES
Installed with an MVUH mounting system, these shades are 100% waterproof.
Provide comfort to your users by protecting vehicles from rain and keeping them in the shade on sunny days.
QUICK AND EASY TO INSTALL
The Mecopark solution can be adapted to new or existing car parks. The absence of foundations means that it can be installed quickly without major excavation work, without damaging your existing car park, while maintaining activity.
CUSTOMIZABLE
Display your communication thanks to the concrete feet! The U shape of the feet allows for the possibility of advertising, and the colouring or painting of the feet makes it possible to identify parking spaces for large surfaces.
A RELIABLE AND LONG-LASTING SOLUTION
Built with quality materials and respecting the constraints of expansion, take advantage of an efficient and durable shade.
The MECOPARK solution reduces the carbon footprint of your project (saving of 20t.eq CO2 for a 100kWp project compared to a traditional metal shade solution)
Take advantage of our experience: more than 3 million square meters installed with Mecosun integration systems!
Most
produced
- WITHOUT FOUNDATIONS

- QUICK INSTALLATION

- CUSTOMIZABLE TO YOUR IMAGE

- REDUCES THE OVERALL COST OF YOUR EXISTING CAR PARK SHADE PROJECT
Videos